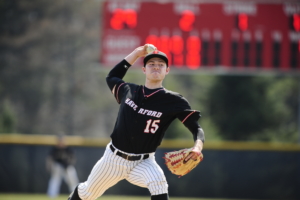 This article is a part of a column by Sports Writer Pat O'Shea called "Pit Stop with Pat" that highlights outstanding past and present student-athletes at Haverford College. Photo courtesy of CBS Philly.
This week in my column, "Pit Stop with Pat", I spoke with Tommy Bergjans '15, a former Haverford College baseball pitcher who was drafted by the Los Angeles Dodgers in the 8th round of the 2015 Major League Baseball draft. After playing in the Dodgers organization for two seasons, he was traded to the Philadelphia Phillies organization this past August.
       According to an evaluation by Dave DeFreitas of the Dodgers organization, Bergjans "has a chance to contribute in a swingman role at the big league level." He is currently listed the roster for the Phillies' "High A" Minor League team, the Clearwater Threshers. After a breakout year last season in the Dodgers organization (team leader in strikeouts with 133), there is a solid chance that Bergjans could be moved up to the Phillies' "AA" team, the Reading Fightin Phils—a short, 45-minute drive from the school where he once dominated.
        Regarding his time at Haverford, there is an argument to be made that the award for Pitcher of the Year in the Centennial Conference be renamed the "Tommy Bergjans Award." Bergjans is the only pitcher in Centennial Conference history to be named an All-American three times (First Team 2014 and 2015; Second Team 2013). He was also named Pitcher of the Year three years in a row (2013, 2014, and 2015). During Bergjans' senior year in 2015, he led the nation in strikeouts per nine innings (14.84) and in strikeouts (111). The prowess that Bergjans demonstrated during his time picking apart the Centennial Conference ultimately led to his selection in the MLB Draft.
        So how did a professional baseball player end up choosing a small, liberal arts college in Southeastern Pennsylvania? Well, I sat down with Tommy Bergjans while he was visiting campus last week to find out how he ended up here, and how life in the Minor Leagues is treating him.
        When asked about his recruiting process, Bergjans explained, "When I was a junior or senior, I was looking for a school that had a combination of rigorous academics along with an ability to play baseball… after doing more research I found out what a good and unique school Haverford is, and after a few campus trips I realized it was a place that fit my criteria and I was interested in attending."
        Bergjans admitted that professional baseball was not always in the cards. "When I came into Haverford, I was topping at 84 MPH, I didn't have much interest in professional baseball because I didn't think it was a possibility, always assumed I would go to Haverford, play four more years and call it a day, get a, quote on quote, real job."
        According to Bergjans, Haverford coaches Nat Ballenberg '06 and Dave Beccaria helped change the trajectory of his career. "Nat was really helpful my freshman year and both him and Coach B were really open—we always had a good dialogue. My fastball velocity spiked initially and then, over the course of the next three years, they were always there for me and they would steer me in the right direction when I got a little headstrong. They were always open to conversations, which I think was really important for my development."
        The best baseball advice that Tommy says he ever got was from Coach Beccaria. "Trust the process. It's always been something that has helped me throughout Haverford especially since I came in my freshman year not throwing particularly hard relative to other college players at the Division 1 level. Going in day in and day out and trying to get incrementally better was really important."
       Bergjans blossomed as a power pitcher at Haverford through putting his trust in the process. He is the proud owner of eight program records including: lowest earned run average (1.68 ERA), lowest opponent batting average (.195 BAA), highest strikeout per nine innings (11.91 K/9), most career wins (27), most innings pitched (282.2 IP), most strikeouts (374), most strikeouts looking (101), and most games started (39).
        Last August, Bergjans found out about the business side of baseball. With the Dodgers in the middle of a playoff push, they traded for Carlos Ruiz of the Philadelphia Phillies. In return, the Phillies received Tommy Bergjans.
       "After I got traded, I had a lot of mixed emotions," Bergjans said, "But the best aspect of getting traded was after it occurred, my phone blew up and was getting flooded with texts from friends from the Philadelphia area who were all really excited to potentially get a chance to see me again in the near future. And the fact that AA and AAA are within an hour drive of Philadelphia definitely added to my excitement of getting a chance to be back pitching in front of a lot of close friends."
        That chance to see Bergjans pitch may come sooner rather than later, as Bergjans was recently back on campus, working out with Pitching Guru Nat Ballenberg '06 and  the Haverford College Baseball team, in preparation for Spring Training.
        "I came out to Haverford for a few days to work with Nat in order to get tuned up…over these last couple days, and I think Nat has really helped me get on the right track," Bergjans said. He added, "Hopefully I'll be prepared to compete and get myself a spot on the team next month."
        I think I speak for everyone when I say, "See you soon, Tommy."